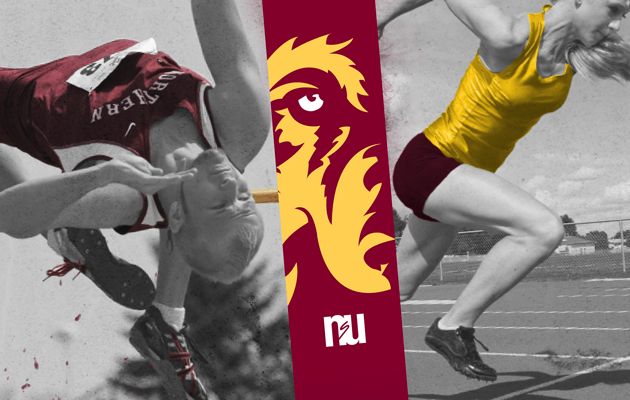 The arts and athletics are two different fields of talent that rarely overlap.
Aberdeen loves to support our local colleges, Northern State University and Presentation College, and the great athletic programs and entertainment they provide. The annual Gypsy Days celebration is an obvious statement of how much Aberdeen loves to cheer on the NSU Wolves. Production Monkeys has also shown its support for Northern State athletics. Recently, the Northern State Barnett Center underwent a $3.2 million renovation project. The athletic facility features state-of-the-art locker rooms, a new wrestling room, and a spacious wellness center. Northern reached out to us for our design services to create vivid, digital images to embellish the pillars spaced between the glass panels of the wellness center.
Each pillar features an athlete from one of the athletic departments here at Northern, whether it be baseball, track, cross country, volleyball, wrestling, tennis, golf, or football.
Having these images spaced throughout the wellness center really adds a great dynamic to the structural design of the Barnett Center, and gives an artistic feel to the athletic side of Northern. Check them out when you're on campus – you'll have to admit they look pretty good together. Go Wolves!
5.0 out of 5.0 stars5.0
"We definitely recommend Production Monkeys to anybody looking for effective marketing."

Gina Karst
Safe Harbor
5.0 out of 5.0 stars5.0
"I attribute much of our business growth to the excellent services Production Monkeys provided to us."

Jonah McLaughlin
Precision Drywall
5.0 out of 5.0 stars5.0
"Thank you for our video – it is truly a wonderful piece of work. You do amazing work. Thank you so much!"

Paige Bjornson
Dacotah Bank
5.0 out of 5.0 stars5.0
"Thanks to Production Monkeys, my website traffic has skyrocketed and calls have been coming in."

Keith Miller
K&A Log Furniture & Construction
5.0 out of 5.0 stars5.0
"We really thought Production Monkeys stood out because they were innovative."

Cam Schock
Climate Control