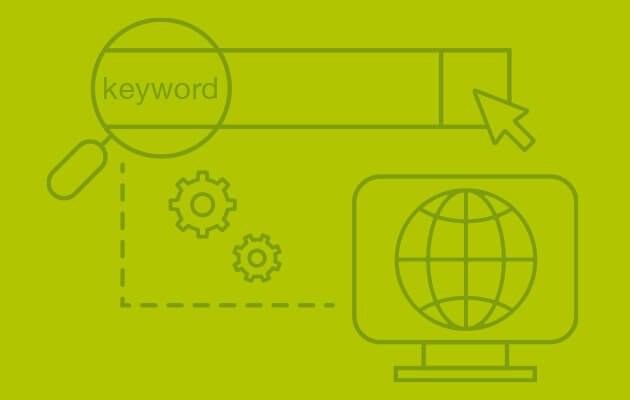 As a graphic design agency, it's important to us that a site is well designed, but as website developers, we also understand the importance of the content of the site.
Ultimately the copy on your site needs to communicate what you do or sell and why your offerings are superior to your competitors. But, if your potential customers never find your website, it doesn't matter what your website copy says.
There are more than 694,000 searches being conducted in Google every minute. When someone Googles a service or product you offer, do you pull up in the search?
There are two major factors search engines consider when deciding how to rank your site:
Relevance – the content on your site
Authority – who's linking to your site
For our purposes, we'll stick to relevance and the content on your site, or more specifically, keywords. Keywords are the terms people are putting into search engines to search for businesses online. If you sell widgets it's important your site contains the word "widget" so that you can be found. In the past, people seemingly made it a competition to pack in as many instances of a keyword in an effort to improve ranking. Today that doesn't work. It's more important that the site is easy to read and not bombarded with keywords.
Selecting Keywords
Before you write (or rewrite) a single sentence for your site you need to develop a list of keywords you want to rank for. When developing your list of keywords, consider the following:
Alternate versions of your keyword – consider singular versus plural keywords, an alternate word order, synonyms, or keyword modifiers.
Avoid too much industry jargon – think about how your potential customer refers to your product or service, not how you and your co-workers speak of your offerings.
Avoid generic keywords – a good rule of thumb for two key reasons – a.) It will be hard to rank for them and b.) They will likely deliver less qualified leads. Getting more specific like extra small widgets for petites will prove to be more beneficial than just widgets.
Verify the competition is realistic – do your homework to see what kind of competition you'll be up against.
Using Keywords
Where you include keywords within your site is also an important consideration for SEO. You should include your keywords in the following areas:
Headlines – use headlines that grab the reader's attention and be sure you use headline tags like H1, H2, etc. Headline tags grab the attention of search engines.
Copy – remember you don't need to shove 10 instances of one keyword into your copy, just keep it easy to read.
Page title – this is what appears on the tab of your web browser and what appears in the search engine results page.
Page URL – as you navigate from page to page this is the web address that appears in your browser.
Alt texts for images – same rules for your copy, don't jam in a number of keywords; just describe the image using a single keyword.
If you have questions about editing any of the components above for your website, contact your web developer and they can help.
Not sure how your site ranks? Type in your search criteria of choice and find out for yourself. Each search engine will give slightly different results but you'll get the idea. If you don't like what you see, get your keyword list together and be sure to track your progress. You're making some good improvements if you can jump up 10 or more spots.
Feeling overwhelmed with the task at hand? Give us a call, we'd be happy to help.
5.0 out of 5.0 stars5.0
"We definitely recommend Production Monkeys to anybody looking for effective marketing."

Gina Karst
Safe Harbor
5.0 out of 5.0 stars5.0
"I attribute much of our business growth to the excellent services Production Monkeys provided to us."

Jonah McLaughlin
Precision Drywall
5.0 out of 5.0 stars5.0
"Thank you for our video – it is truly a wonderful piece of work. You do amazing work. Thank you so much!"

Paige Bjornson
Dacotah Bank
5.0 out of 5.0 stars5.0
"Thanks to Production Monkeys, my website traffic has skyrocketed and calls have been coming in."

Keith Miller
K&A Log Furniture & Construction
5.0 out of 5.0 stars5.0
"We really thought Production Monkeys stood out because they were innovative."

Cam Schock
Climate Control